May 31st, 2009
Posted the pictures of my new room on fb. I'm very proud of my room cause I single-handedly decorated it. From the furniture to the wall colour to the ornaments. In case you don't know, my room has 4 colours! Pink, blue, green and purple.
This is what you'll see when you're outside.
I made the key hanger! Picked out the door knob @ Plaza Singapura.
My room is very small. When I first saw it, I hated it alot. Cause my previous room is more than 2 times its size! I had to throw away alot of things during the moving. But now, I couldn't have asked for a better room. Without the size, it won't be so cozy.
First thing you'll see when you step in my room is my 88 pairs of earrings. Impulsive shopper.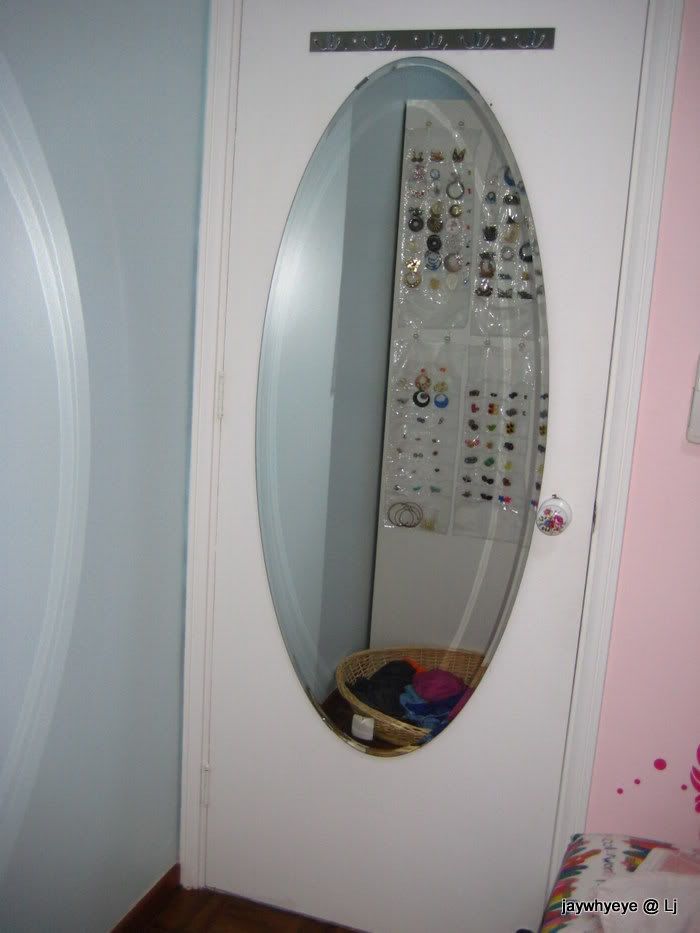 Full length mirror from Ikea.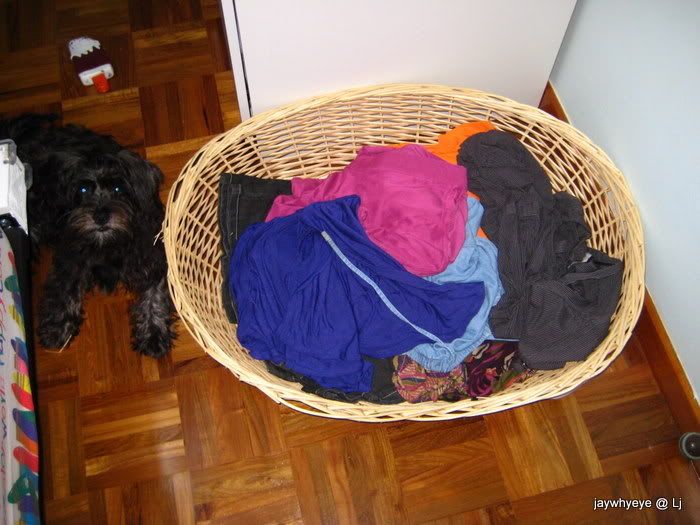 Scary-kpo YY plus her bed.
I only saw this bed after buying one @ Harvey Norman. So Mummy surprised me by buying this one and giving up the deposit for the other. I love lacquer wood cause it feels so royal.
About the nicest thing in my room. Painstakingly pasted one by one.
Did the collage board for one whole hour. From painting the board black, to picking pictures, to cutting photographs, to arranging them, to pinning them up.
My accessories drawer.
And in it is...
Tadaaaaaaaaah~ I arranged them for very long. I now proudly own 58 bangles/wristlets, 36 necklaces, 22 headwear, 21 rings, 14 pairs of eyewear, and who-knows-how-many hair accessories.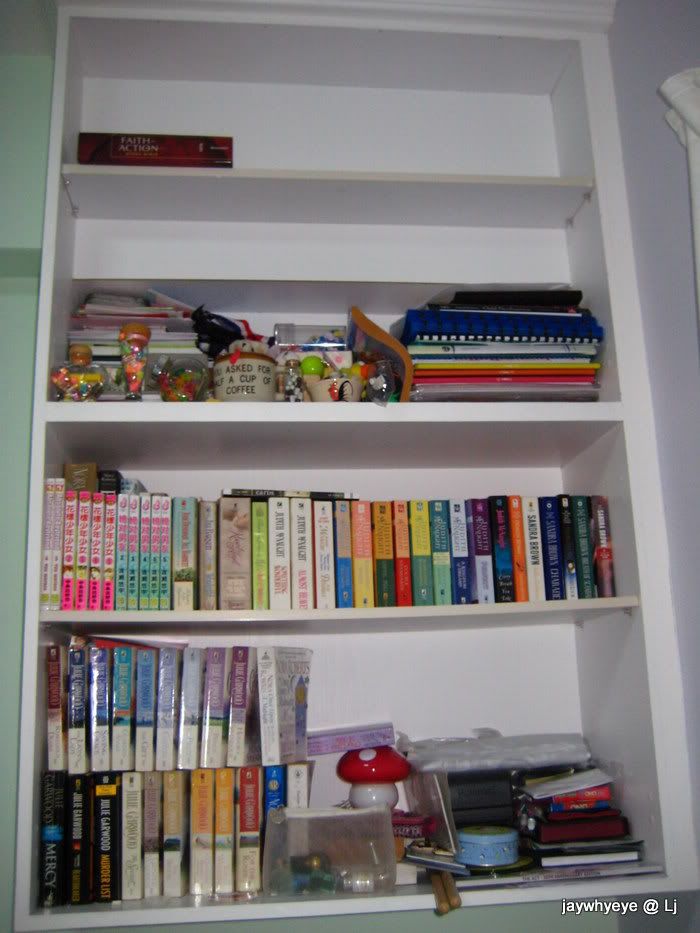 Wall-mounted shelf.
Top shelf: Bible (I live by the "Every room must have a bible" upbringing).
Second shelf: Presents, cards, souveniers, old files.
Third shelf: Storybooks, comics
Fourth shelf: Storybooks, items I constantly need.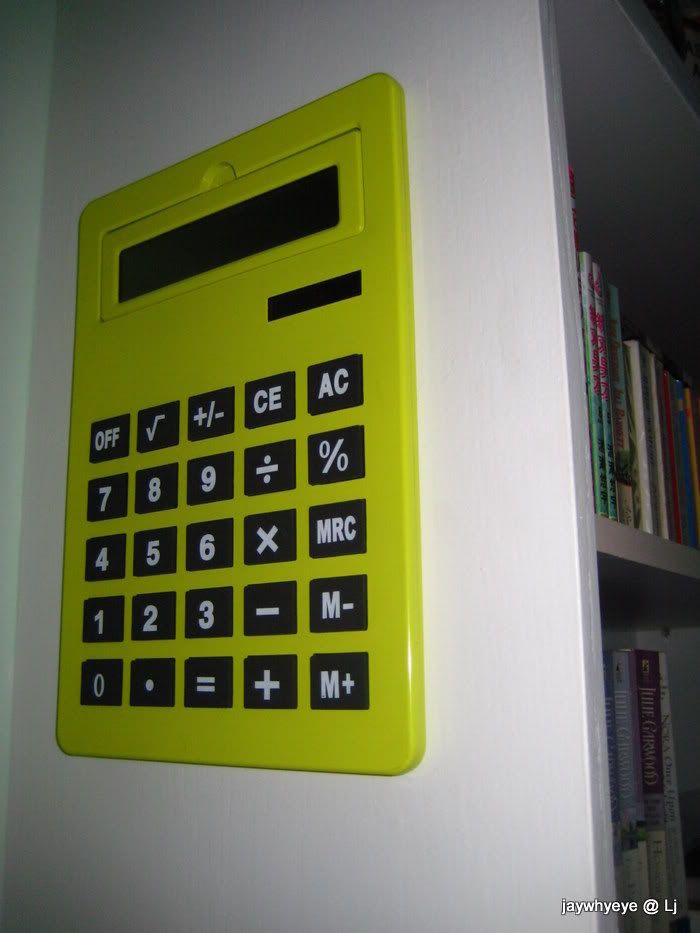 Glued this BIGGGGG calculator to the shelf. From Rena, two years ago and still working.
My table is huge. Can fit 8 of my laptops? Best when I'm doing my art stuff.
The four favourite things on my table.
Hand-painted pen holder, princessy handphone holder, handbag-photoframe (clique), ice-cream man coin bank (almost filled).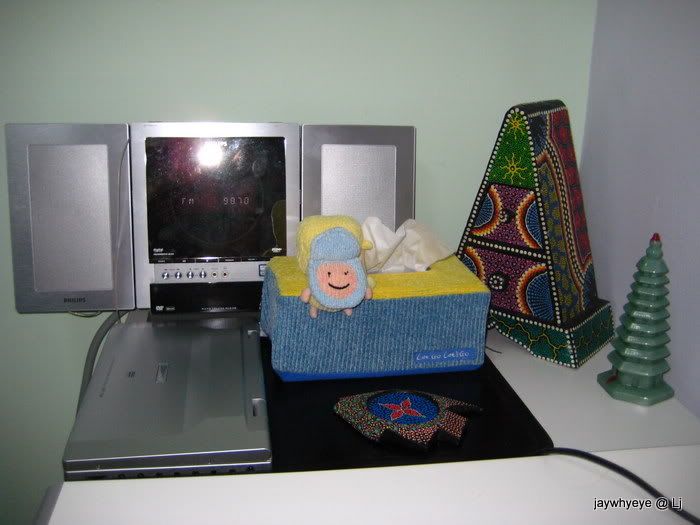 By the side of my table.
Radio/cd player/usb player, portable dvd player, tissue box, handmade drawer and coaster (from Seremban). The pagoda is for fengshui.
A shelf (assembled by yours truly), dedicated entirely to my art materials.
On the other side of the room is my 4-door wardrobe. Nothing interesting about it.
Don't you just love my room?
You always do the sweetest things, say the heartfelt words. Why do you always know what to say and how to say it right? Nothing comes out wrong.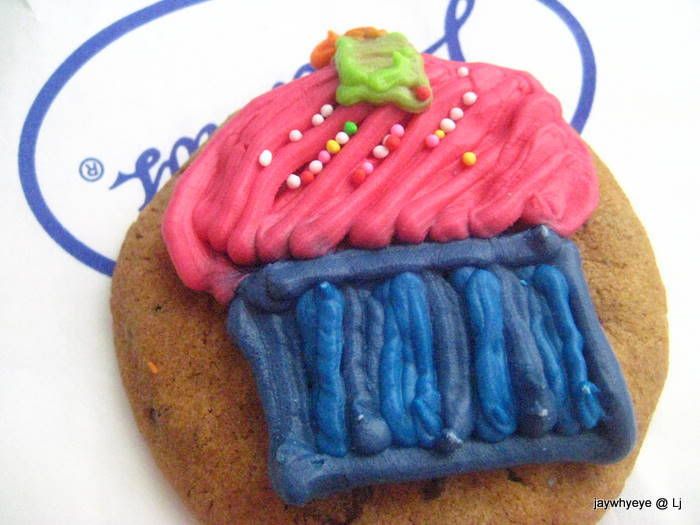 Just like bringing this cookie over. Not a word, just a little errand you thought would make my day better. Of course it did. I felt so sorry for not meeting you, cause I had to rush assignments. Fault on my part, but you still had to do something for me.
Told me it's okay, a pat on my head, a peck on my forehead. Been so long since I felt so loved. Been so long since someone took care of me.
"Will make you feel in love again", you say. Guess I have. Let's pick up from where we left off 2 years ago and make it right.
Feelin':

loved
In the last vacation, Sophie and I went Seremban on a 2-day study trip. (You will see ALOT of her in this post). Took the coach there. Not luxurious, but comfortable enough.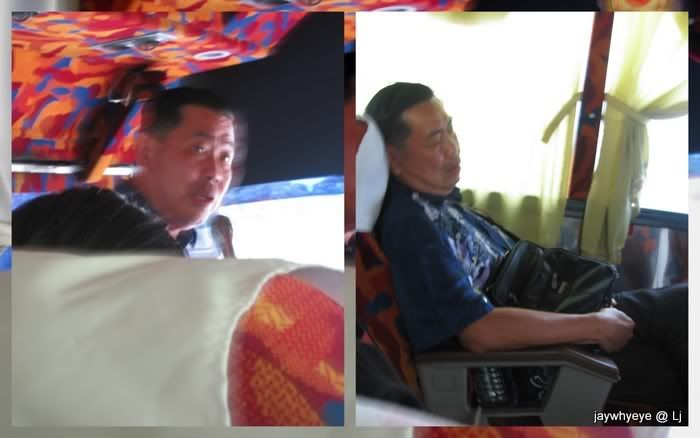 Our handsome tour guide.
His famous statement of the century: "Here you can see the Chinese

Esso Station

, Malay

Esso Station

...."
Translate: "Here you can see the Chinese

ASSOCIATION

, Malay

ASSOCIATION

..."
Sophie and I laughed until our fallopian tube almost came off.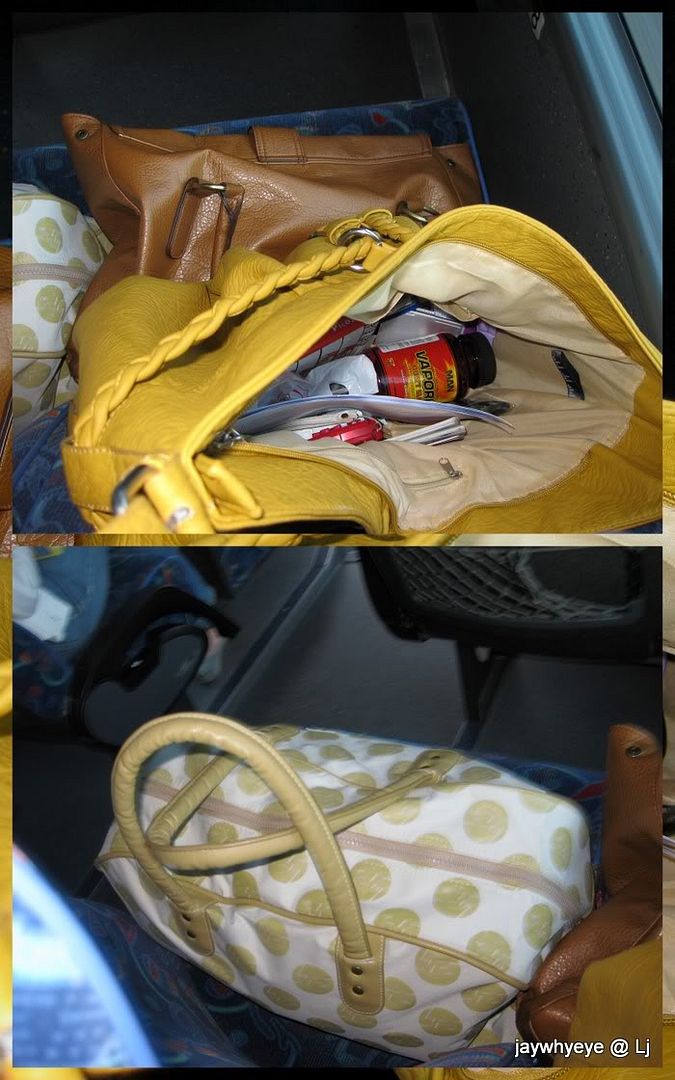 Our bags.
Stopped and bought Ramly Burger. I SUPER LOVE RAMLY BURGER!!! Singapore's suck though.
After like a few hours' ride, we had to get down visit a Siew Bao store. Apparently, it is very famous. Whatever. Sorry if I sound snobby, but it was too humid for me to enjoy the making-siewbao-process.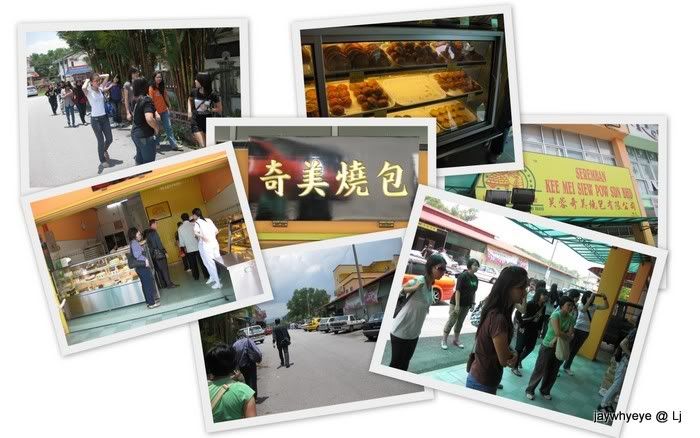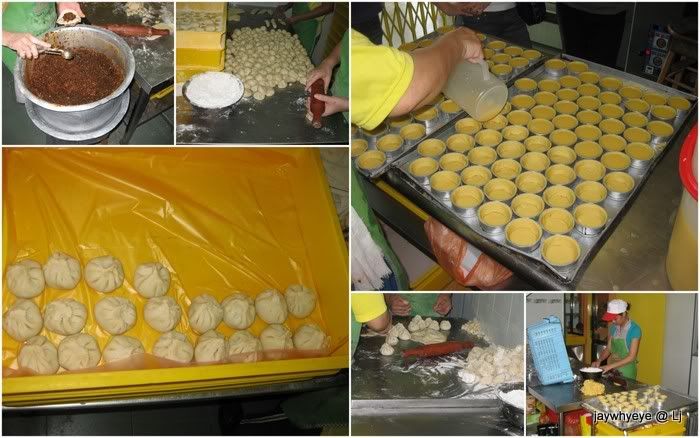 How they make Siew Bao and egg tarts.
The baked bao. Nice and golden.
Green tea egg tart?! Eew.
Had lunch @ some place and headed to an organic fruit farm.
See how the people are staring at Sophie!!!! HAHAHAHA.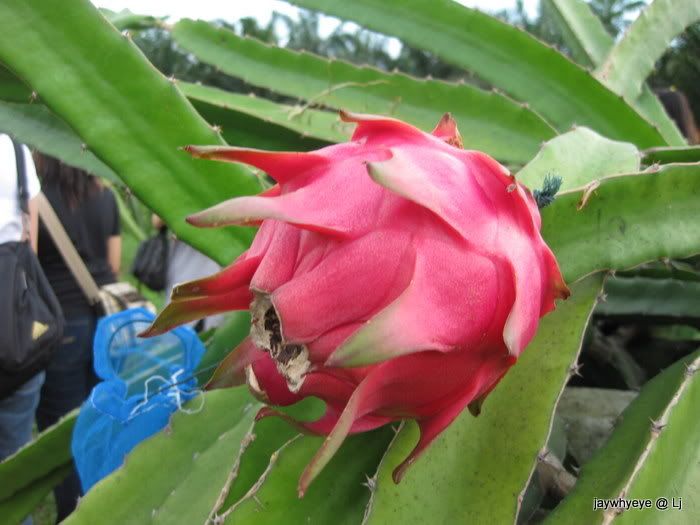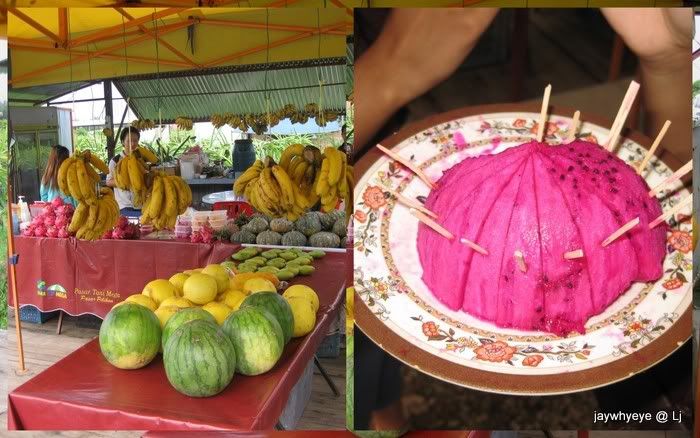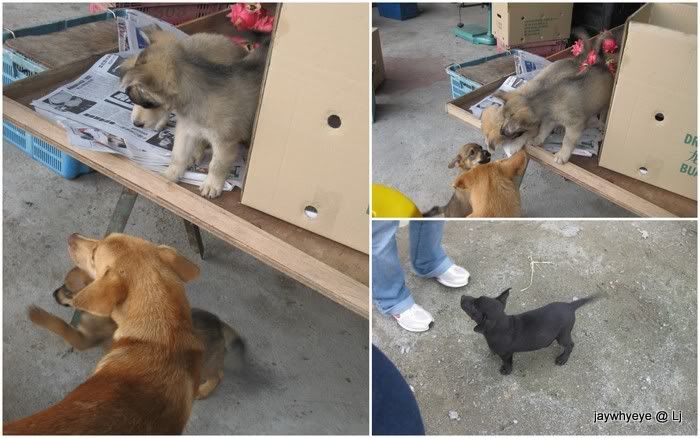 The farm owner had alot of dogs! Puppies too. Hahaha.
They finally allowed us to check in at the hotel after a long day.
Of course, my room-mate is......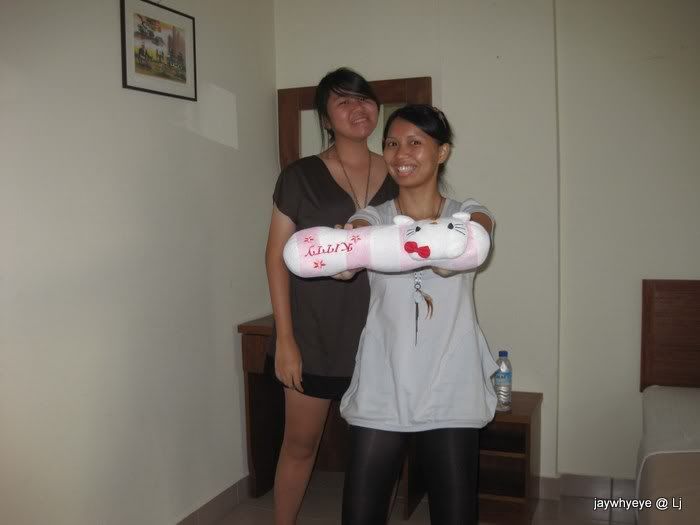 SOPHIE CHEOK JIA HUI!!!
The hotel was quite ulu. Think 3 star.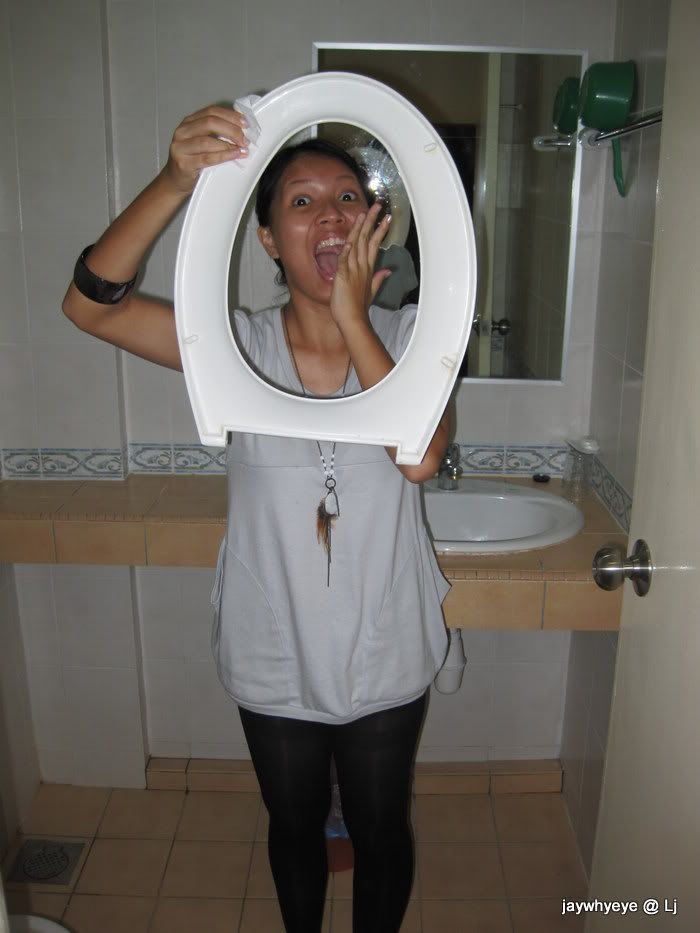 Even the toilet seat came off! Tsk.
We were off for dinner on our own at a shopping mall. Forgot the name. Went to Secret Recipe. DON'T ASK ME WHY WE WENT THERE WHEN SING
APORE HAS IT TOO.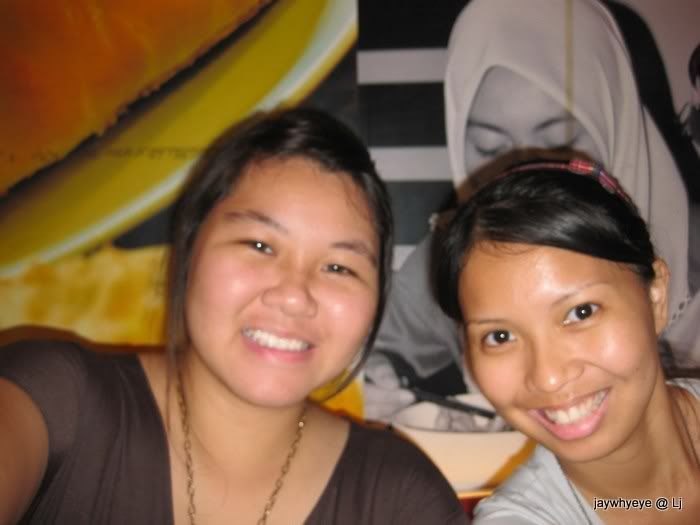 Shopped, bought quite some stuff and went back to the hotel to sleep (after rara-ing around).
WOKE UP ULTRA EARLY. They sent us to some hawker centre to have breakfast.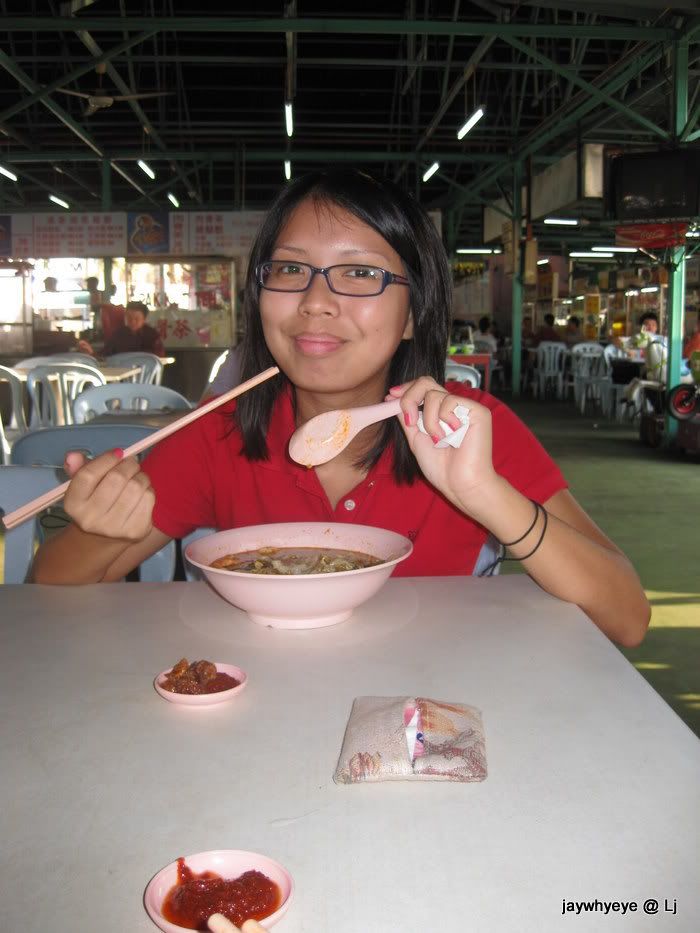 Prawn Mee!!! One of the best I've had. Surprise surprise.
Paid a visit to a bee farm. FUCK YOU, I HATE BEES. Even the toilet had bees. I DON'T CARE IF THEY DON'T STING. BEES STINKKKKK. FUCK YOU FUCK YOU FUCK YOU.
This is how much I hate them ok.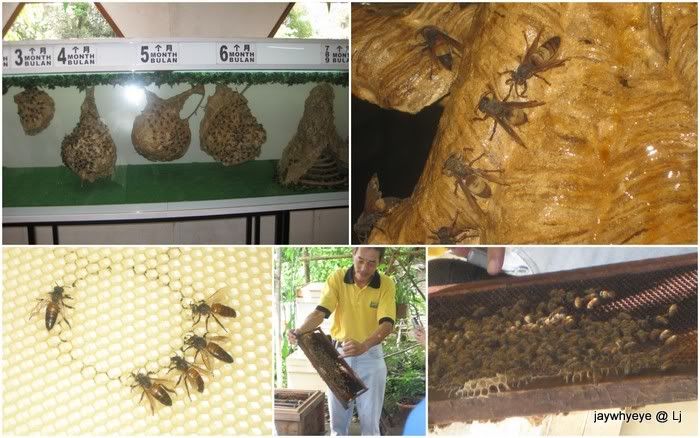 Bought two bottles of honey from them anyway. HAHAHHA.
Lunch. The food for the trip was not bad.
Our two seniors. Graduated :/ Nice people though.
Boring historic site.
The trip was fun, cause Sophie and I kept laughing at everything. REALLY EVERYTHING.