I love many people, I'm no two-timer.
I have had more flings than you can count, I'm no slut.

Because ultimately, there's only one boyfriend.
I think maybe this is the happiest I can get, which scares me. Because it means everything will just go down from here. Pity, but let's savour the moment.
Pictures from MAYC. Just the few I like best.
My clique, that is.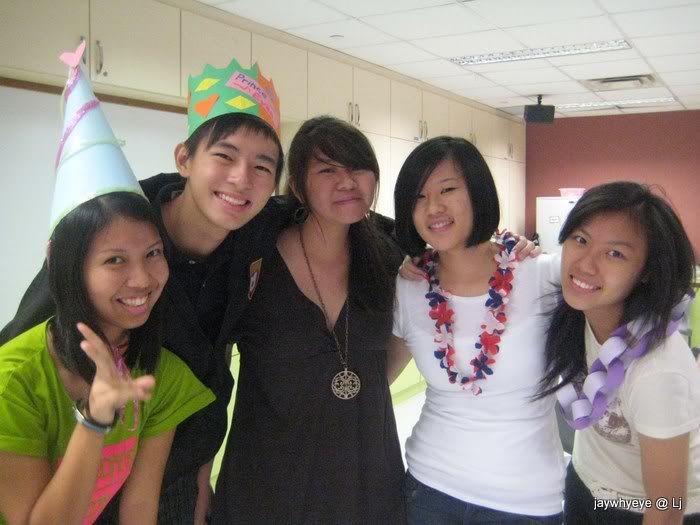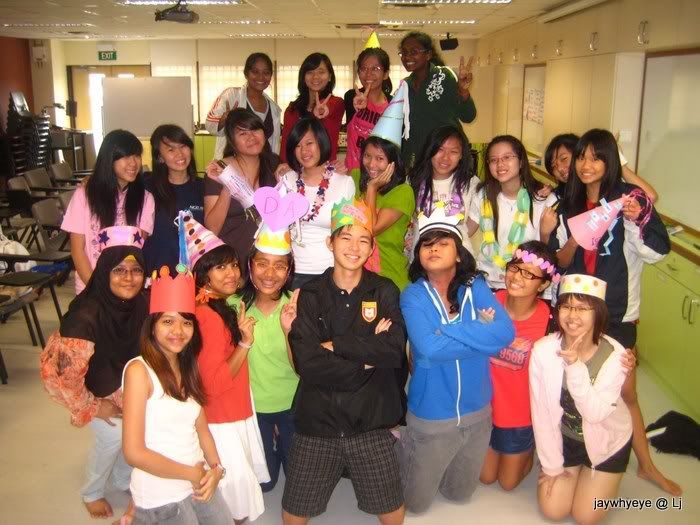 HANNAH MONTANA THE MOVIE IS DAMN GOOD. Really! A little tear-jerking. Too bad Tsw doesn't like to watch movies ): Sophie has promised to watch with me again though :D:D:D
See babe, people who watches movie are normal kkk. Love you, as always(:
Very sick now. My morning was drowsy, painful and horrible. Had to stay at home, so I finished my MAYC assignment.
Here are pictures from yesterday's tutorial.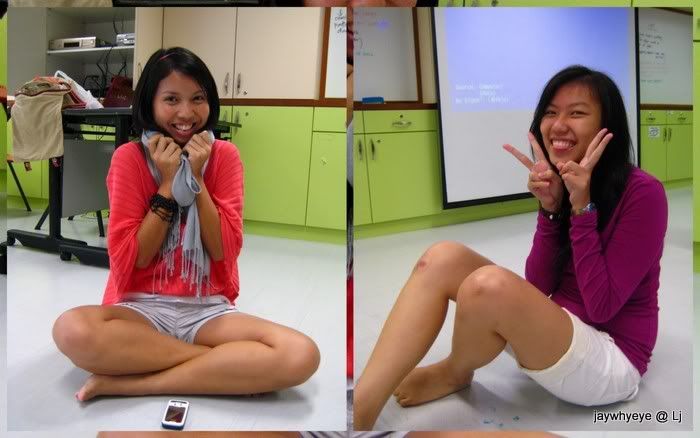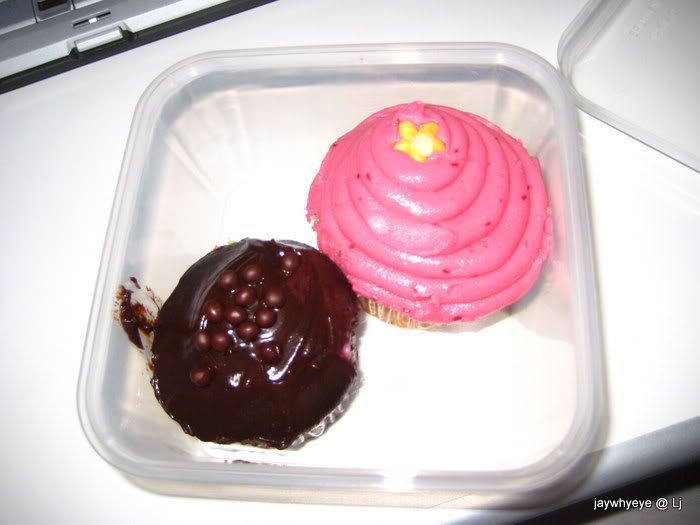 Cupcakes from Gastromaniaaaaaaaaa, regards from Tsw <3
Babe, you make my world spin. But knowing how much the two of you went through together makes it so hard to smile. I saw the pictures. Come to think of it, I've never seen you so happy before. Makes me wonder why it ended in the first place. Not gonna push you away with my relentless insecurity. I will do it differently this time.
"Let's create our own memories." Well, let's.
I went Causeway Point twice in 2 weeks? Just to eat with Sophie and Evan. We had to travel all the way to WOODLANDS just because Evan had vouchers. It was ke-raaaaaaaaay-zeee. I've never even been to CWP my entire life.

First date: Seoul Garden.

I loveeeeeeeeeee Seoul Garden. It stinks, it's pricey, it's noisy, but me like.
Maybe it's our all-time favourite, GARLIC CHICKEN!!!
Okay, what's with the mega-loaded veggie?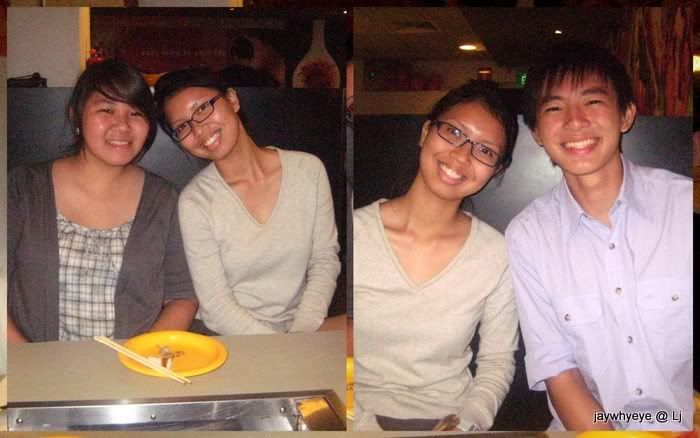 Sophie went back to school for stayover. Evan and I stayed back to chat. Had so much to talk about! All the way to midnight, and it's still not enough. Jidongxz. Now we know cross-heart secrets about each other. Haha. Swore to secrecy.
Second date: Breeks.
CWP again. Vouchers too.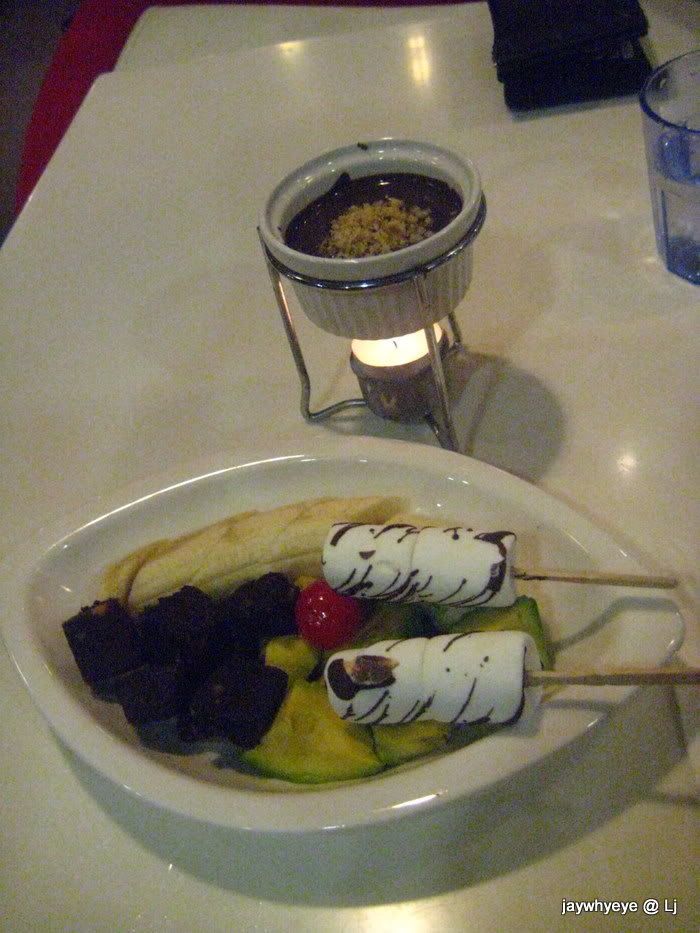 Sophie's fondue. Siao man, fondue for dinner. AVOCADO AHHHHHHHH.
Mushroom cheese baked potaaaaaaato.
The three of us shared a cab home and met the nicest uncle. We should seriously have more dinners like this, so that we can talk talk talk and talk.
Joanne had her 19th birthday in April and it was the first time we celebrated with her. We didn't do so last year, cause we weren't a clique yet. Evan, Sophie and I went to JP the day before to get her present and cake. Sophie left before we got the cake.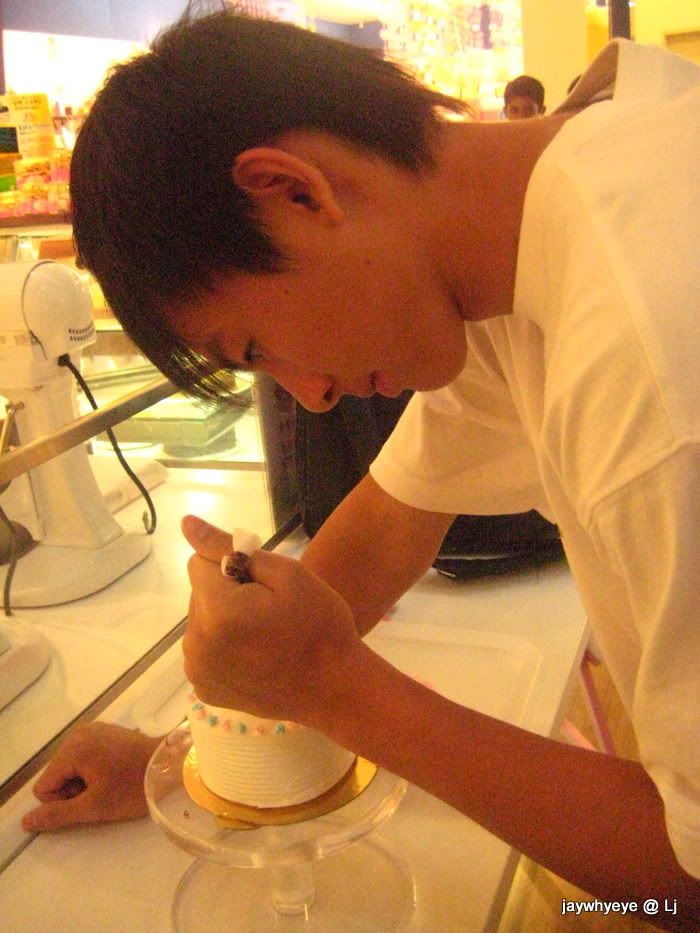 Evan decorating it. HE ONLY DID ONE LETTER CAUSE I WAS TOO AFRAID TO TRUST HIM. Hahahaha. I scared he screwed it up ah. But he did well.....for the one letter. Haha.
The bra's an inside joke. Shan't reveal it.
We went to her house the next day, like 8AM!? It was crazy. I was the earliest. THE NEHNEH POKS WERE ALL LATE. Tsk. To think I still took public transport.
The completed cake. Jo Man because Joanne acts like a man. Haha.
I have this video of Joanne acting SUPER weird, but I'm just too damn lazy to upload it onto Youtube :/ Her reaction to seeing us was ultraaaa funny. She can totally copyright it as her own style alr.
Shiokkkkkkkkk.
Sidetracking: Shots from MAYC's Twister. Don't ask me why we were playing Twister in class. You wouldn't understand.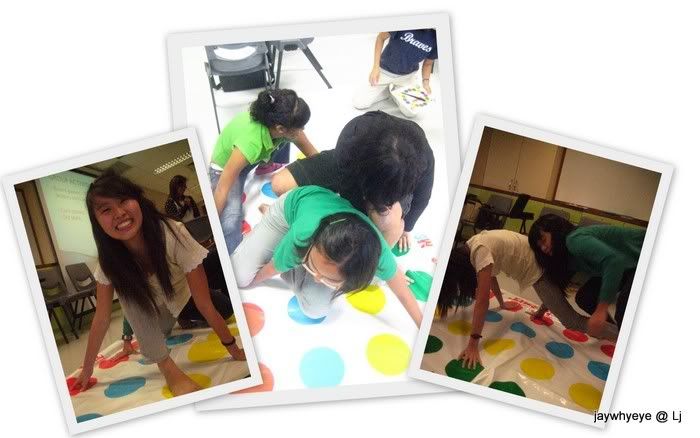 In the last vacation, Sophie and I went Seremban on a 2-day study trip. (You will see ALOT of her in this post). Took the coach there. Not luxurious, but comfortable enough.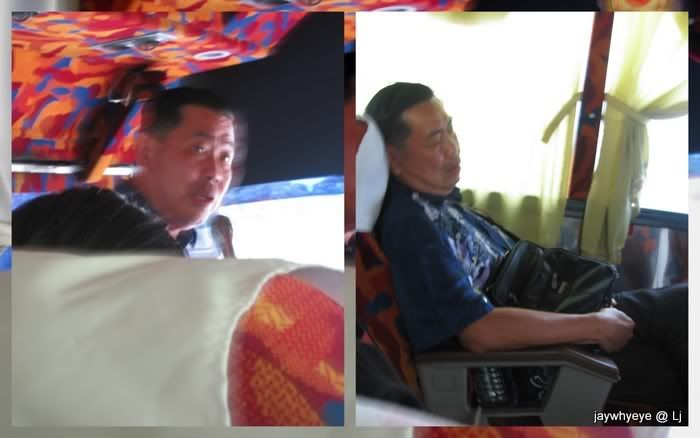 Our handsome tour guide.
His famous statement of the century: "Here you can see the Chinese

Esso Station

, Malay

Esso Station

...."
Translate: "Here you can see the Chinese

ASSOCIATION

, Malay

ASSOCIATION

..."
Sophie and I laughed until our fallopian tube almost came off.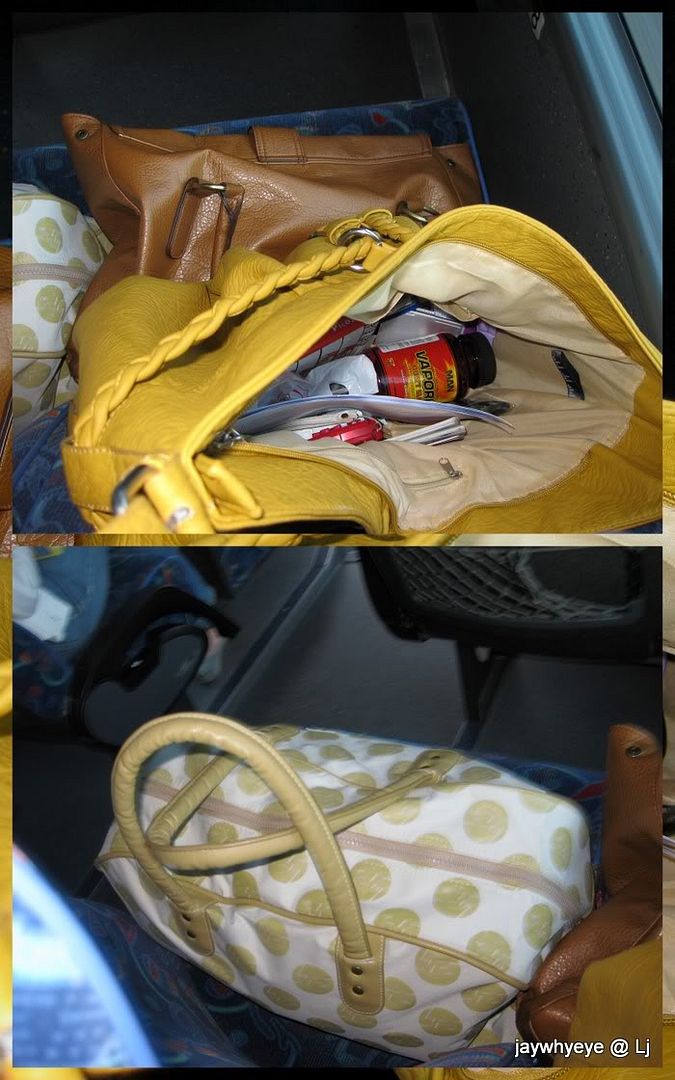 Our bags.
Stopped and bought Ramly Burger. I SUPER LOVE RAMLY BURGER!!! Singapore's suck though.
After like a few hours' ride, we had to get down visit a Siew Bao store. Apparently, it is very famous. Whatever. Sorry if I sound snobby, but it was too humid for me to enjoy the making-siewbao-process.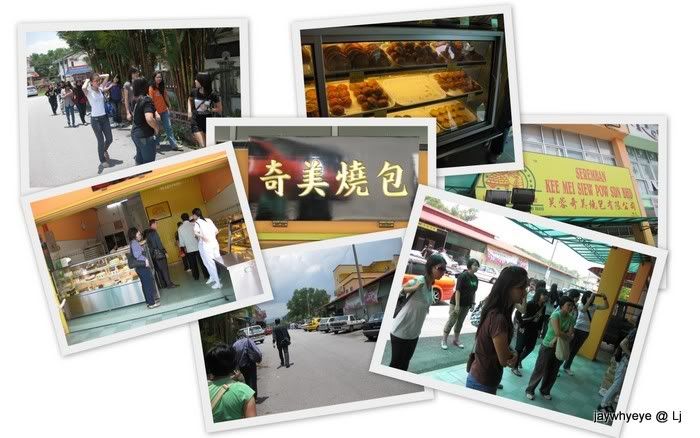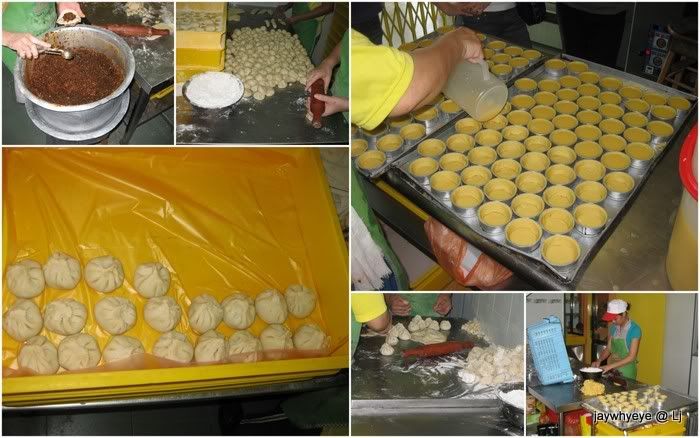 How they make Siew Bao and egg tarts.
The baked bao. Nice and golden.
Green tea egg tart?! Eew.
Had lunch @ some place and headed to an organic fruit farm.
See how the people are staring at Sophie!!!! HAHAHAHA.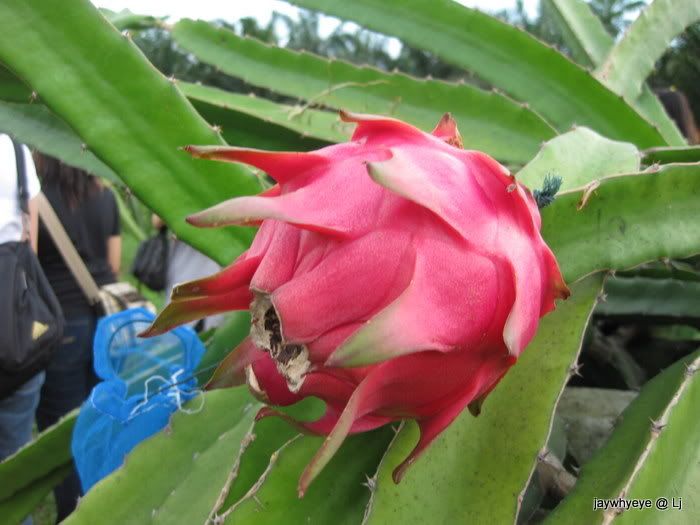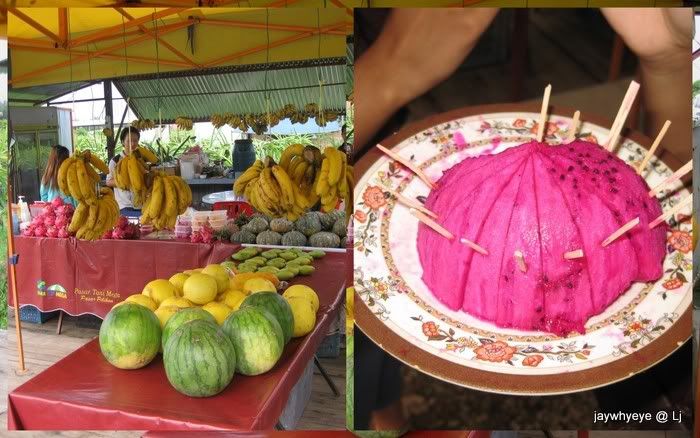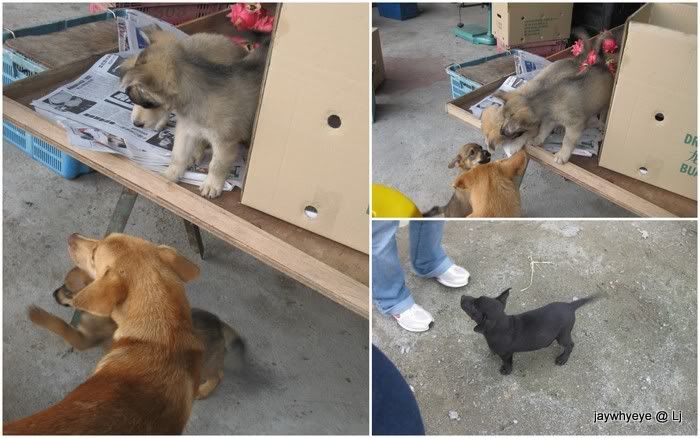 The farm owner had alot of dogs! Puppies too. Hahaha.
They finally allowed us to check in at the hotel after a long day.
Of course, my room-mate is......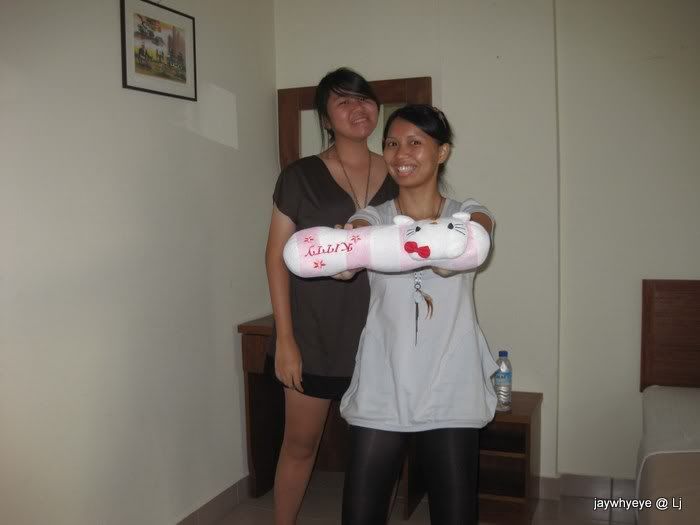 SOPHIE CHEOK JIA HUI!!!
The hotel was quite ulu. Think 3 star.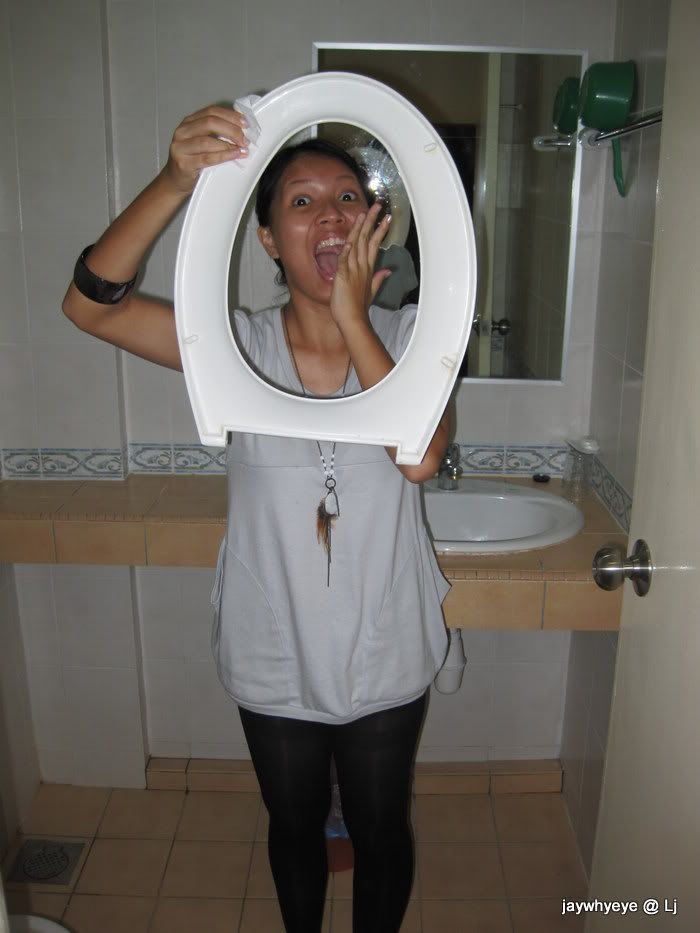 Even the toilet seat came off! Tsk.
We were off for dinner on our own at a shopping mall. Forgot the name. Went to Secret Recipe. DON'T ASK ME WHY WE WENT THERE WHEN SING
APORE HAS IT TOO.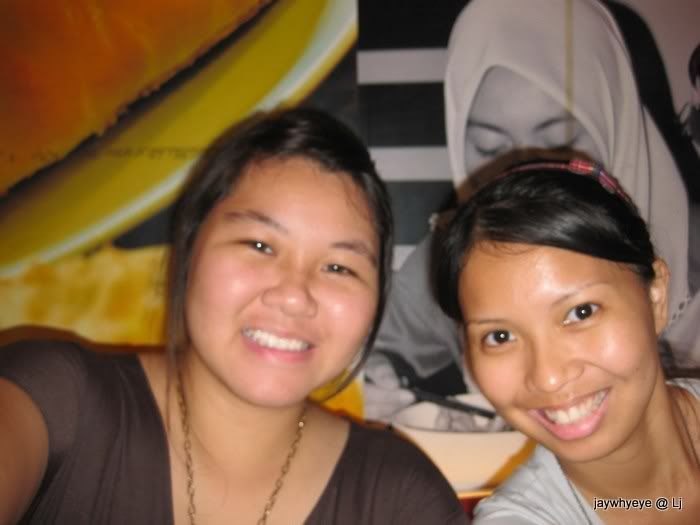 Shopped, bought quite some stuff and went back to the hotel to sleep (after rara-ing around).
WOKE UP ULTRA EARLY. They sent us to some hawker centre to have breakfast.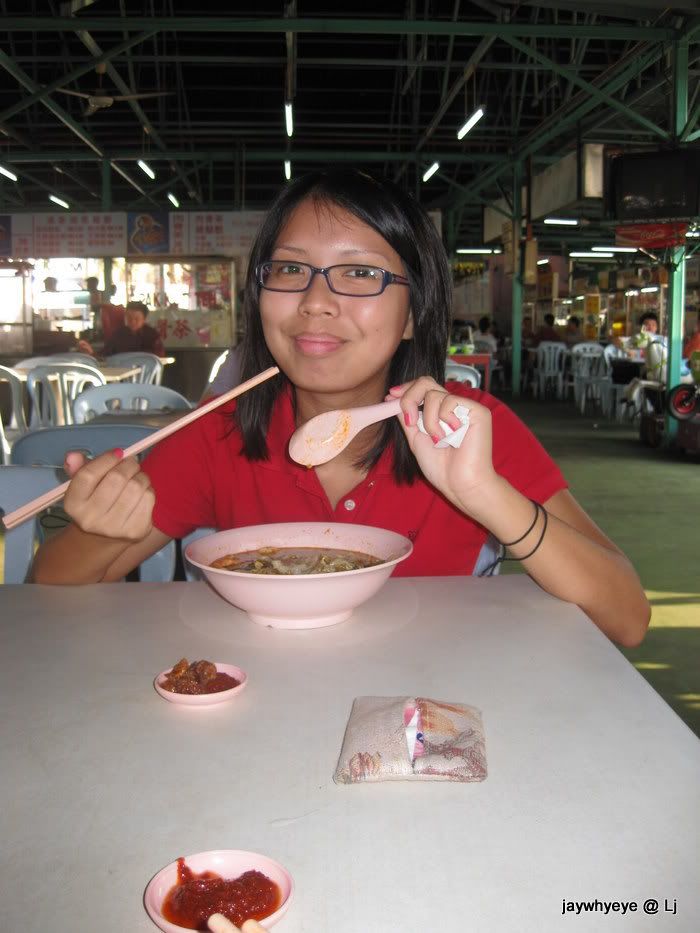 Prawn Mee!!! One of the best I've had. Surprise surprise.
Paid a visit to a bee farm. FUCK YOU, I HATE BEES. Even the toilet had bees. I DON'T CARE IF THEY DON'T STING. BEES STINKKKKK. FUCK YOU FUCK YOU FUCK YOU.
This is how much I hate them ok.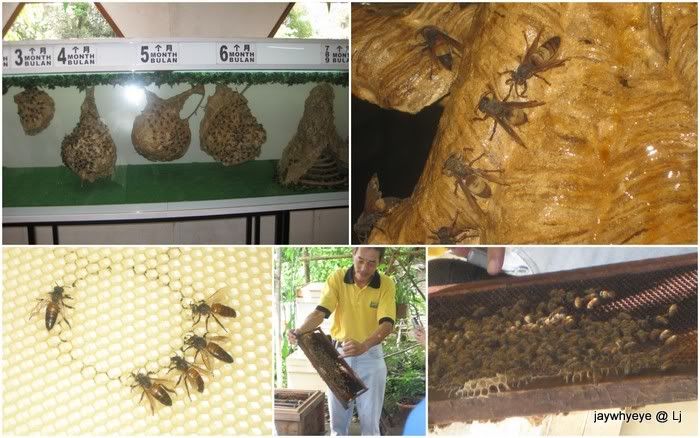 Bought two bottles of honey from them anyway. HAHAHHA.
Lunch. The food for the trip was not bad.
Our two seniors. Graduated :/ Nice people though.
Boring historic site.
The trip was fun, cause Sophie and I kept laughing at everything. REALLY EVERYTHING.
You always do the sweetest things, say the heartfelt words. Why do you always know what to say and how to say it right? Nothing comes out wrong.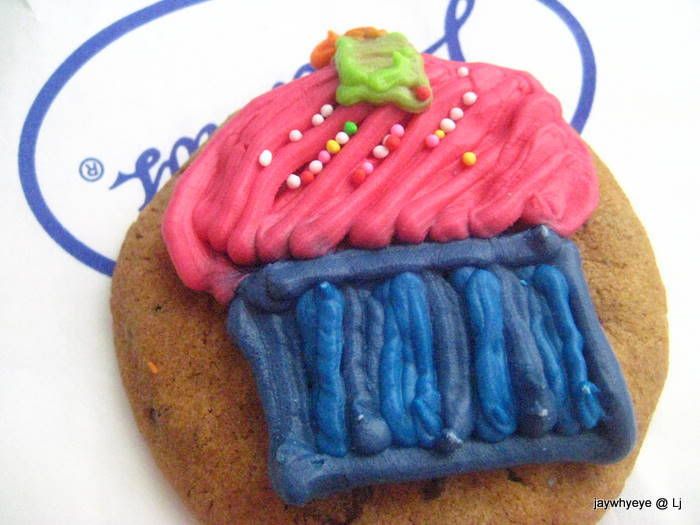 Just like bringing this cookie over. Not a word, just a little errand you thought would make my day better. Of course it did. I felt so sorry for not meeting you, cause I had to rush assignments. Fault on my part, but you still had to do something for me.
Told me it's okay, a pat on my head, a peck on my forehead. Been so long since I felt so loved. Been so long since someone took care of me.
"Will make you feel in love again", you say. Guess I have. Let's pick up from where we left off 2 years ago and make it right.
Feelin':

loved
Posted the pictures of my new room on fb. I'm very proud of my room cause I single-handedly decorated it. From the furniture to the wall colour to the ornaments. In case you don't know, my room has 4 colours! Pink, blue, green and purple.
This is what you'll see when you're outside.
I made the key hanger! Picked out the door knob @ Plaza Singapura.
My room is very small. When I first saw it, I hated it alot. Cause my previous room is more than 2 times its size! I had to throw away alot of things during the moving. But now, I couldn't have asked for a better room. Without the size, it won't be so cozy.
First thing you'll see when you step in my room is my 88 pairs of earrings. Impulsive shopper.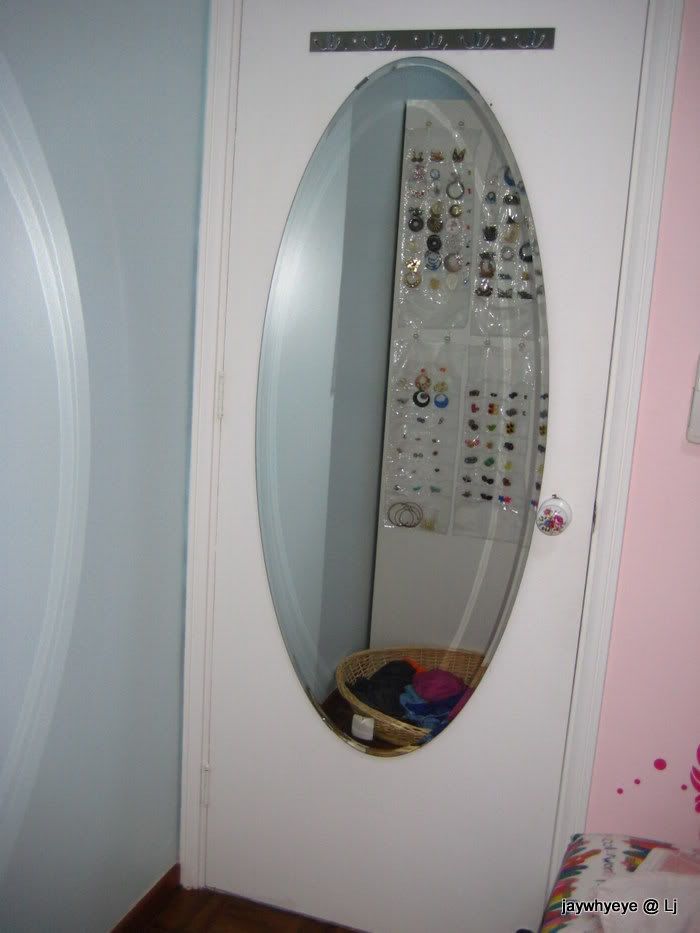 Full length mirror from Ikea.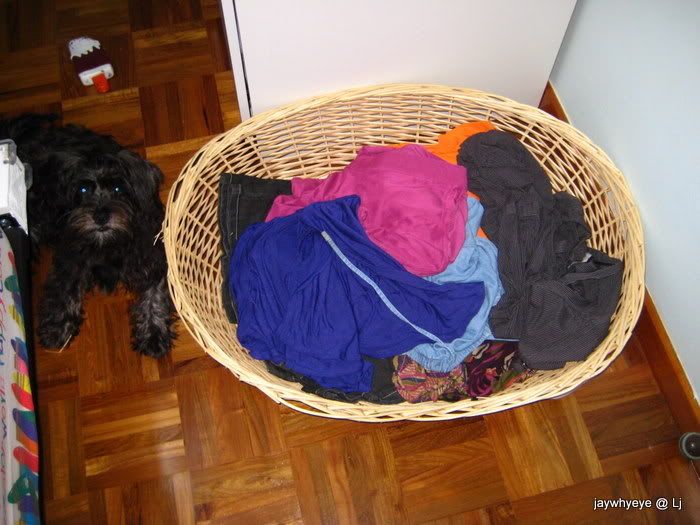 Scary-kpo YY plus her bed.
I only saw this bed after buying one @ Harvey Norman. So Mummy surprised me by buying this one and giving up the deposit for the other. I love lacquer wood cause it feels so royal.
About the nicest thing in my room. Painstakingly pasted one by one.
Did the collage board for one whole hour. From painting the board black, to picking pictures, to cutting photographs, to arranging them, to pinning them up.
My accessories drawer.
And in it is...
Tadaaaaaaaaah~ I arranged them for very long. I now proudly own 58 bangles/wristlets, 36 necklaces, 22 headwear, 21 rings, 14 pairs of eyewear, and who-knows-how-many hair accessories.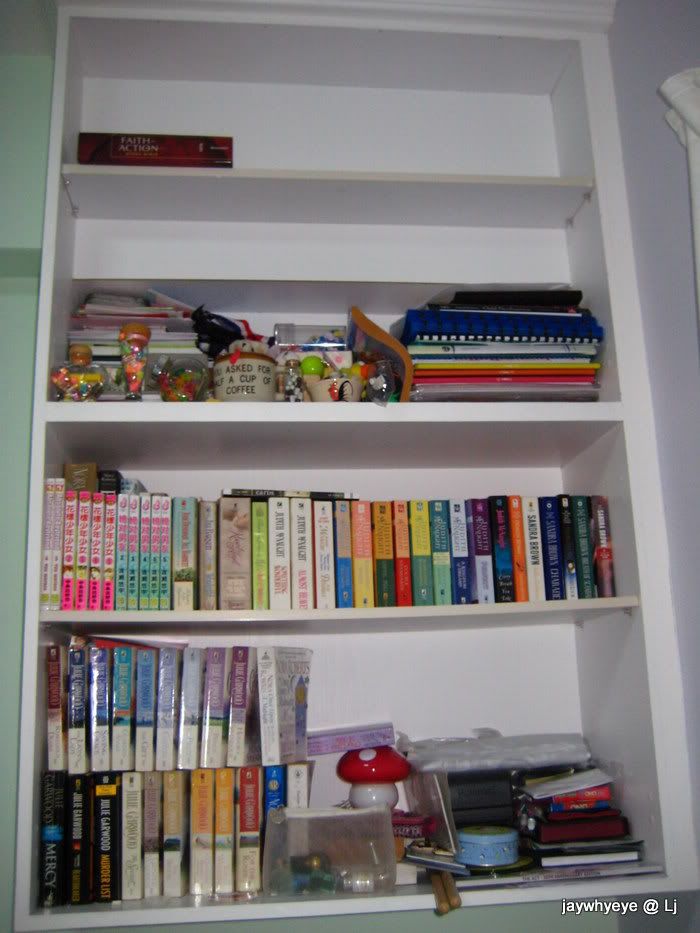 Wall-mounted shelf.
Top shelf: Bible (I live by the "Every room must have a bible" upbringing).
Second shelf: Presents, cards, souveniers, old files.
Third shelf: Storybooks, comics
Fourth shelf: Storybooks, items I constantly need.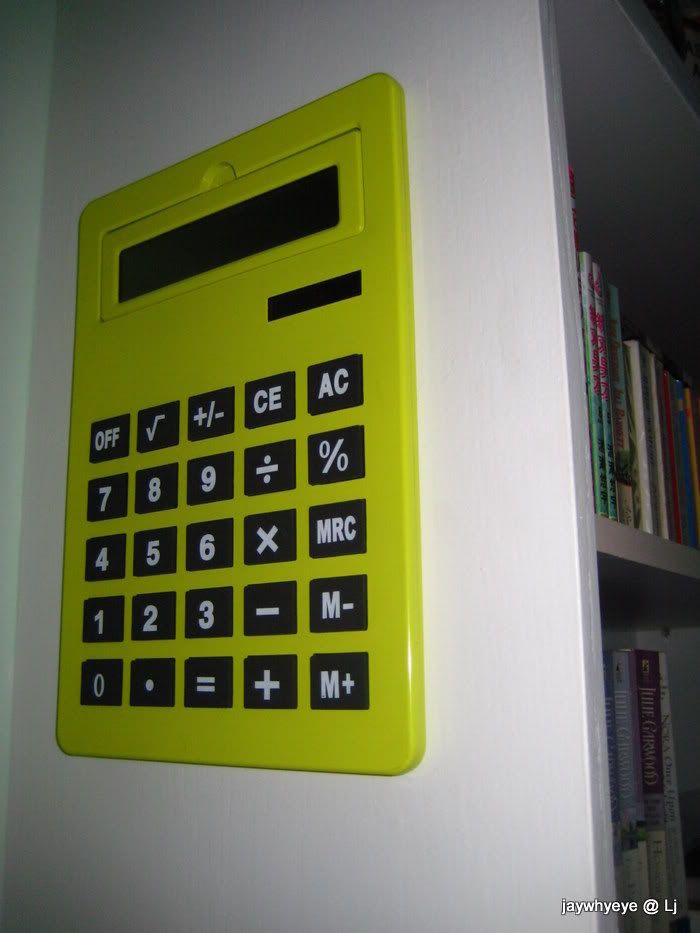 Glued this BIGGGGG calculator to the shelf. From Rena, two years ago and still working.
My table is huge. Can fit 8 of my laptops? Best when I'm doing my art stuff.
The four favourite things on my table.
Hand-painted pen holder, princessy handphone holder, handbag-photoframe (clique), ice-cream man coin bank (almost filled).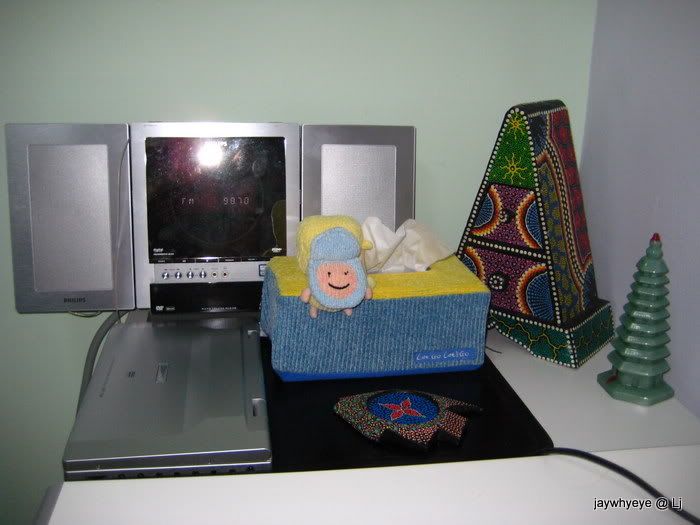 By the side of my table.
Radio/cd player/usb player, portable dvd player, tissue box, handmade drawer and coaster (from Seremban). The pagoda is for fengshui.
A shelf (assembled by yours truly), dedicated entirely to my art materials.
On the other side of the room is my 4-door wardrobe. Nothing interesting about it.
Don't you just love my room?
I had to redo the previous entry, cause it was too touch-and-go.
AND YOU KNOW WHY?
Because I was conferencing w/ Evan and Van at that time and they were ultimate distracting.
So anyway, I've always thought that blogs that go on and on about the bloggers' pets are so mediocre. Maybe even annoying.
BUT I HAVE A FRICKING PUPPY NOW! WHAT AM I SUPPOSED TO DO?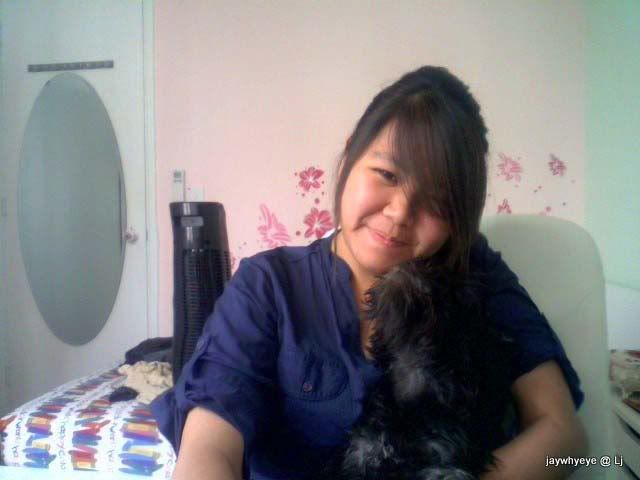 In order to shed light on my puppy and not be irritating at the same time, I will just do one long entry on her. That's it, unless there's a really cute picture. Then I'll post it up. Haha.
If you know me, you'd prolly know that my family went through some dire times for the last few years. Spilt, separated, cold wars. It all caused a strain in my emotional being. I cried, banged wall (serious), blamed the whole world and eventually, the end came for 'family'.
For the past 6 months, I've been busy with moving house &al. I'm finally living with my mum after 3 years. Mama knows I have no one to talk to, and she'll just be busy working, so she agreed to get a dog for me (
SHE REFUSED FOR 17 YEARS OF MY LIFE, NO MATTER HOW HARD I BEGGED
). Coincidentally, her friend's dog just gave birth to three puppies!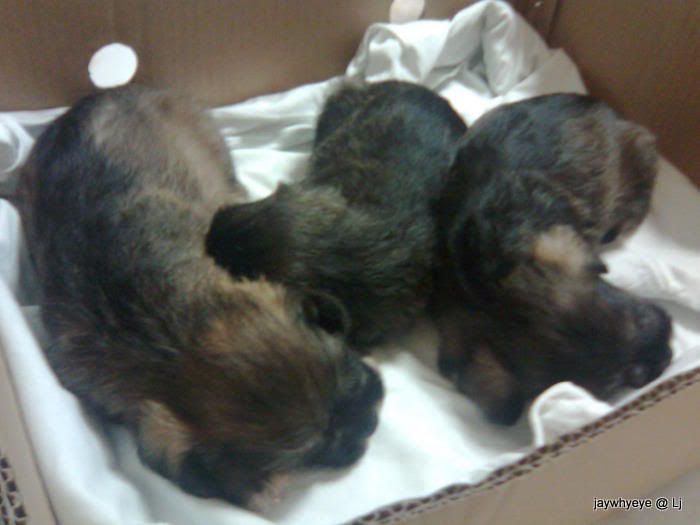 Before I even saw her, I've already picked out a name for her.
Bobo Li Xiao Hei
. Think I blogged about it once. But then Mama refused to accept the name cause Xiao Hei (Blackie?) clashes with her fengshui beliefs and she thinks it doesn't suit a female. *Rolls eyes. So changed it to Yuanyuan (YY) instead.
I waited super long before YY could come to my house, cause she needed her mother for feeding.
It was so difficult taking care of a puppy. I nearly gave up and even thought of giving her away. But I grew to love her more than anyone/anything. It's like my own child. Haha. I'm serious. Anyway, after this experience, I decided not to have kids in the future. Maybe I'll change my mind one day, but for now, NO.
YY is exceptional. Sometimes a little weird. And I'm not kidding.
She doesn't bark. At all. She's not mute though, because when she barks, it can bring down a tower.
She follows me everywhere. Toilet, bedroom, etc. The only thing that can stop her is food. Maybe strangers too.
She loves strangers.
She has the energy level of an athlete after 18 can of red bull.
She eats and eats and eats and eats and...eats.
She can chew everything and anything under the sky.
She doesn't like to watch Tv (I thought dogs do that?). She'd rather stare into plain air than the Tv.
She likes being hugged to sleep.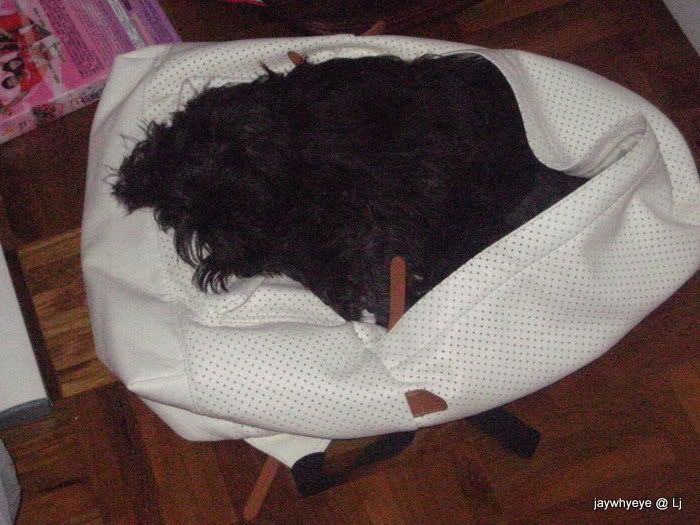 YY used to sleep in my backpack. She'd just crawl into it herself.
Then we got this rattan bed.
Evan, Sophie and Joanne came to my house sometime back to visit YY.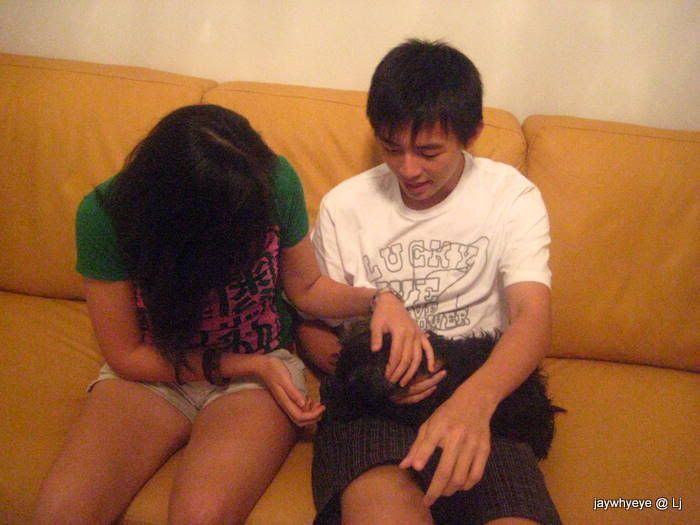 Mama loves YY alot, but I think she doesn't realize it.
OH, YUANYUAN JUST WENT FOR GROOMING LIKE 2 HOURS AGO.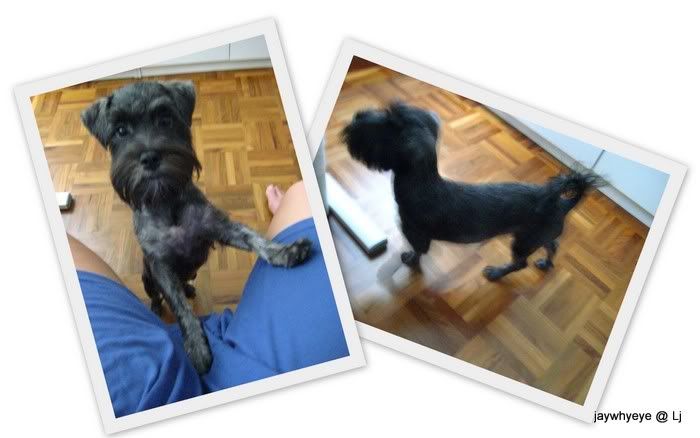 HAHAHAHA, SO UGLY!!! Even my maid couldn't take it. Like some botak pok with moustache.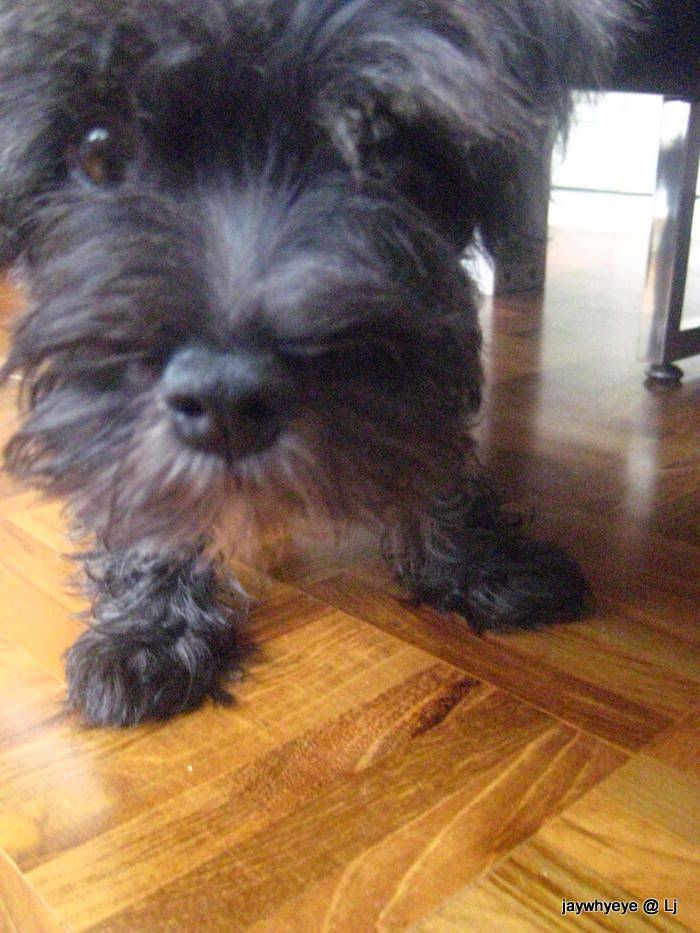 Seriously, can anyone not love her?
Feelin':

grateful